Acuity Design works to enrich peoples' experiences of products, places and services through physical and digital design.
We work closely with both public and private sector clients and their service users to co-create designs that work inclusively.
---
We have three core human-centered design assumptions.
Humans possess:
Extraordinary capacities
Vast imagination
Deep kindness
We use these assumptions to design and deliver products, services and workshops that are centered on enhancing human agency and autonomy and respecting both the diversity and divergence of their physical and cognitive capacities.
---
What are you wanting to do?
A lot of our clients do not quite know quite what they want to do, what is possible and what things cost.
We are happy to offer free advice to explore needs and show what is possible with different types of technologies.
Contact us now if you just want to chat about possibilities.
We have also discovered that workshops are a useful way of both exploring what is needed and developing deeper capacities in organisations. Both co-production and skills workshops can help any organisation build the right product or service for all kinds of people.
This website has three main areas:
Accessible Design on projects to design and build physical and digital assets for accessibility. We have particular strengths in design for cultural and public transport organisations.
Workshops on how Alastair Somerville facilitates a range of workshops (in-person and online) for organisations.
Blog on new ideas on accessible design and a wider range of subjects relevant to accessibility.
Accessible Design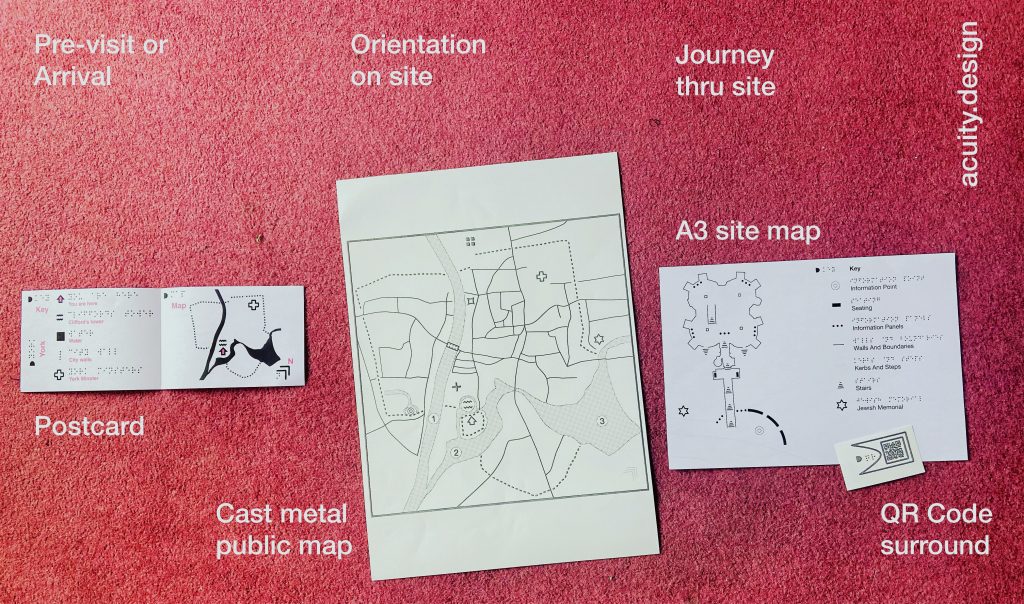 Accessible design can seem daunting and complex with lots of conflicting demands.
We are here to help.
Contact us anytime for a quick chat about what you think you need
and let us advise you what is possible and what could be done that you had not even imagined. We have helped cultural organisations across the world develop new ways of communicating with new audiences.
Have a look at the Accessible Design page.
Workshops
Workshops have become a key part of Acuity Design's work. Starting with Sensory Design and Accessible Design workshops for companies like Google and conferences like South By SouthWest, Alastair Somerville now faciltiates workshops on a range of exciting topics.
Have a look at the Workshops page.
Blog
We have a blog for ideas on accessible design, new research on perception and ideas around the workshops that have been delivered or are currently being designed.
Have a look at the Blog page.

Contact us
email : a.somerville@acuity.design
phone : +44 (0)7808 480749
twitter : @acuity_design