Contact us to arrange a single workshop or a full series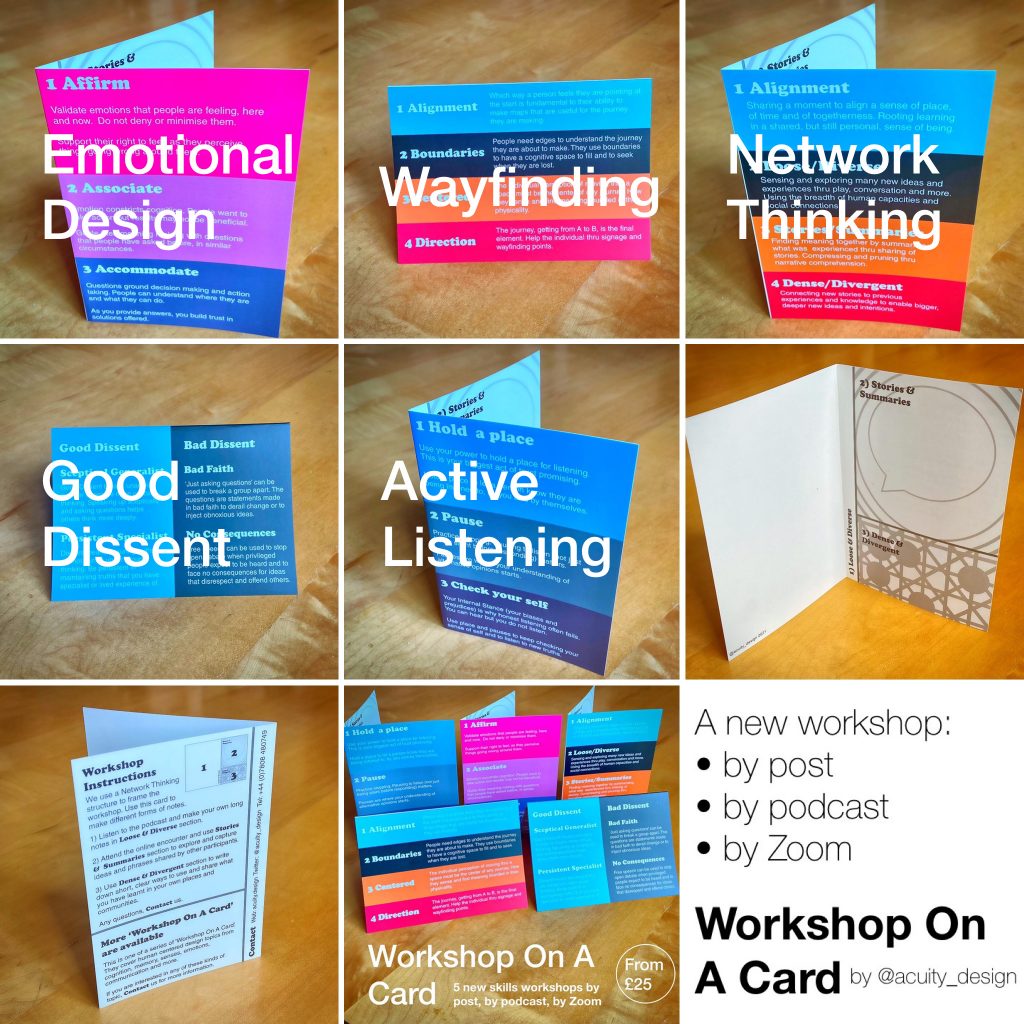 A series of 5 hybrid mini-workshops on different aspects of human-centered design for £30 per workshop or £125 for all 5 (17% discount to £25 per workshop)
Why this format?
These workshops are designed to maximise time spent together talking and sharing ideas while minimising the personal stress and tiredness of spending too much time online. They are based on this three part framework:
By post (greeting cards with core ideas on front, instructions on back and space for your notes in middle)
By podcast (15 – 20 minute download audio podcast explaining concepts and examples by Alastair Somerville)
By Zoom (60 minute online encounter to explore ideas and share future goals with other participants)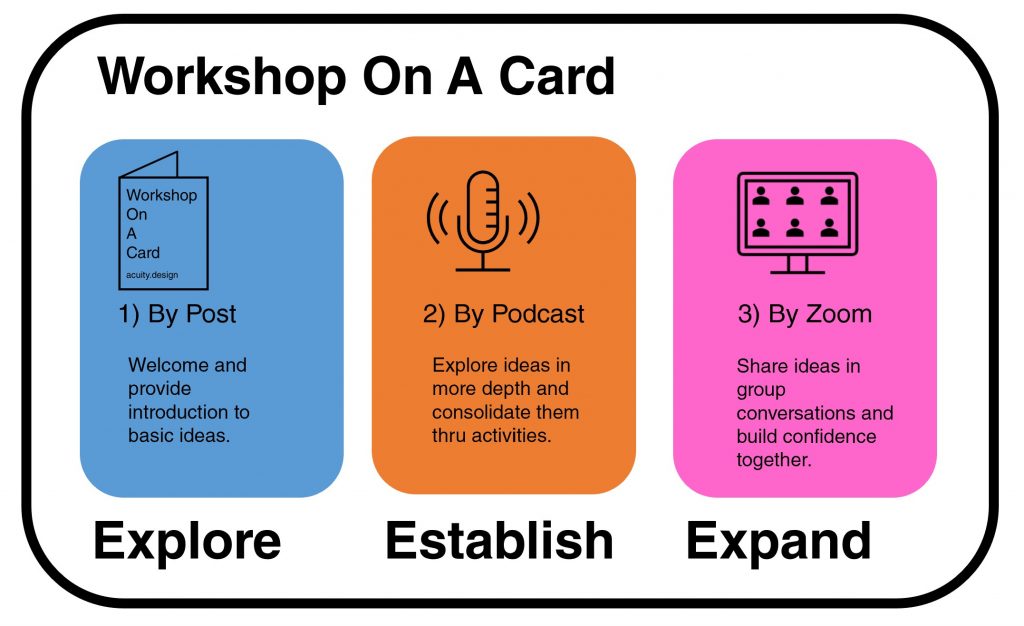 What you get from the workshops
The workshops are designed to provide knowledge and skills that enable you to improve how you and your colleagues deliver human-centered design. The five workshops cover two core themes.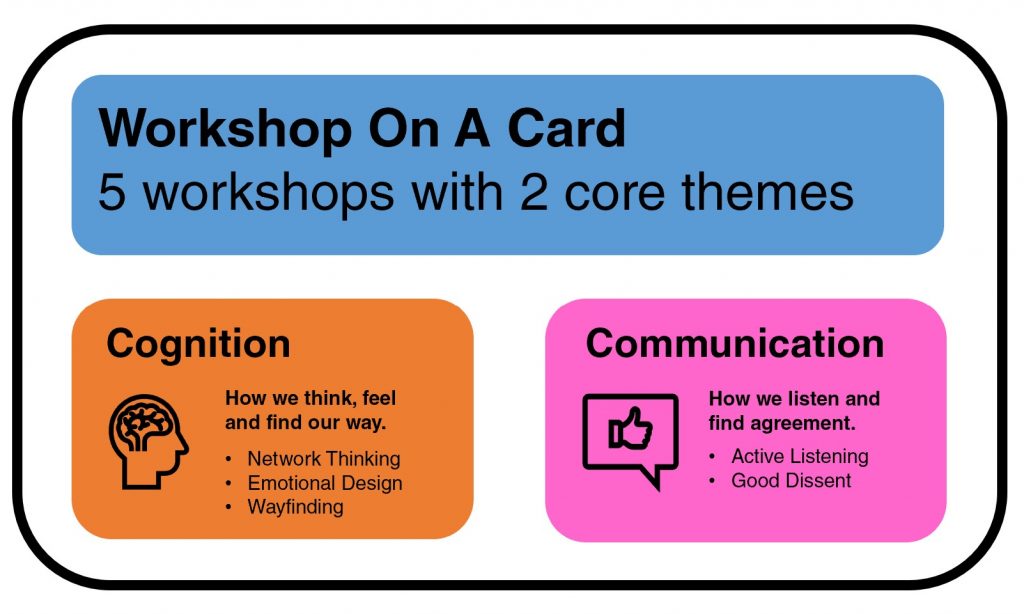 Cognition
Understanding how we think, feel and plan our journeys.
Communication
Practicing how to listen and to find agreement together.
The workshops are designed to enable you to learn some basic ideas, explore how they relate to practical work and share experiences together with other people to understand how to use and share new skills in your own work context and communities.
Background
All the workshops are based on my experiences of working in accessible design, UX and Service Design as well as academic research and lived experiences described in a range of books. All the workshops are based on ideas of how to be as human-centered as possible within the constraints of working in organisations that must deliver specific products and services.
How to be humane and humanise systems from a personal perspective thru respecting the diversity of perspectives of people you work with and for.
These workshops are open to anyone and do not require specialist knowledge. They are particularly designed for people who feel powerless within or in the face of large organisations. Human-centered design, for me, starts by centering on the personal perspective and building knowledge and skills that are shared outwards into teams and thru communities.
Workshop on a Print At Home/Work Card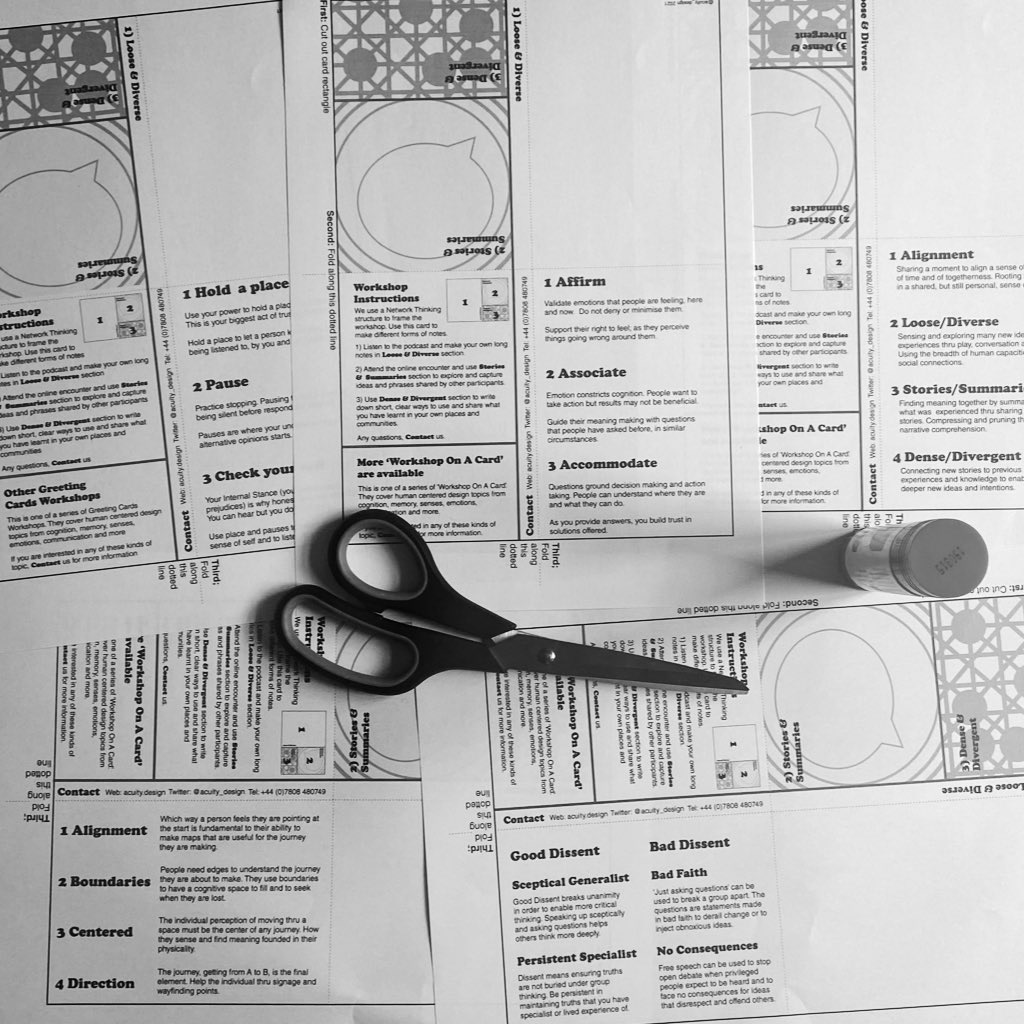 The workshop cards are also available in Print At Home/Work version for people who want to attend but are unsure if the postal system will deliver in time.
If you want to attend with a Print at Home/Work card and do not want to receive a full colour printed card at all then pay for Full Series or Individual workshop tickets and I will refund £3.00 for each physical card I will not be sending out.
If you do want to receive the physical cards (even if it arrives after the September workshop dates), then please let me know and I will process the ticket payment as normal.
Workshops for corporate or government organisations
I have worked for clients including Google and the Scottish Government and know that booking these workshops might need you to request different payment methods or content changes.
Purchase Orders, invoices and bank transfer
This page is set up for payment via PayPal for individuals. If you want to book a number of workshops for different people then contact me and I will send an invoice for payment by PayPal or Bank transfer. If you need to send a Purchase Order I can add that to the invoice.
Internal events and conferences
I am also happy to arrange any of the workshop for a team meeting or conference. Talk to me about how you might need content or learning outcomes adjusted to meet your project or corporate requirements.
Individual Workshops
There are 5 five workshops in this series and you can book to attend them individually on the relevant pages.
Emotional Design
Emotions are too often treated as if they were an error state in both User Experience and Service Design. However, they are an essential part of human sensemaking. Human-centered design that is founded on emotions is not humane.
How we design with emotions is something I find interesting. This workshop uses some work in healthcare to talk about respecting emotions and aligning information and service provision with them.
Emotional Design – By Post, By Podcast, by Zoom
Wayfinding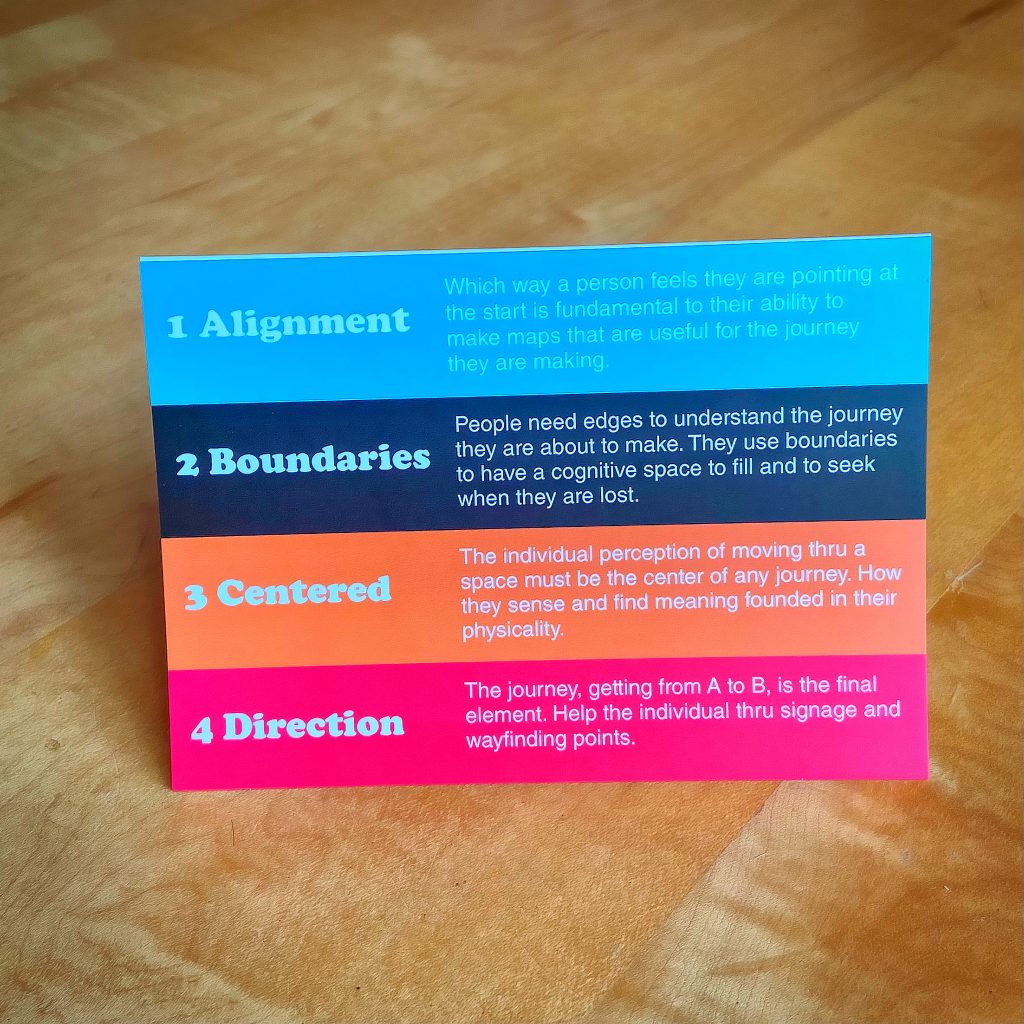 I do a lot of map-making and wayfinding work for museums and public spaces. How humans think about journeys and how they act during those journeys is hugely important. The ideas behind Wayfinding are important both in physical and digital places. How people plan, move and get lost needs understanding so as to provide the optimal information before and during their journey.
This workhop uses a simple ABCD form to talk about some new ideas from neuroscience and cognitive accessibility.
How people make maps is fundamental to more than journeys: it also helps frame how we learn.
Wayfinding – By Post, By Podcast, by Zoom
Network Thinking
How humans take vast amounts of sensory information in and transform it into new ideas and actions matters. New research, by people like Lisa Barrett Feldman, shows how the brain's use of differing forms of networks compress and abstract information. Aligning our processes with our brains seems a more human-centered approach.
Network Thinking is a model for building learning and project processes that depend upon diversity, storytelling and divergence. It is a response to the normalising bias of Design Thinking which prioritises the needs of a small group.
Network Thinking is embedded into all the workshops and it is the final workshop so people can think about how to design their own workshops and enable more human-centered learning.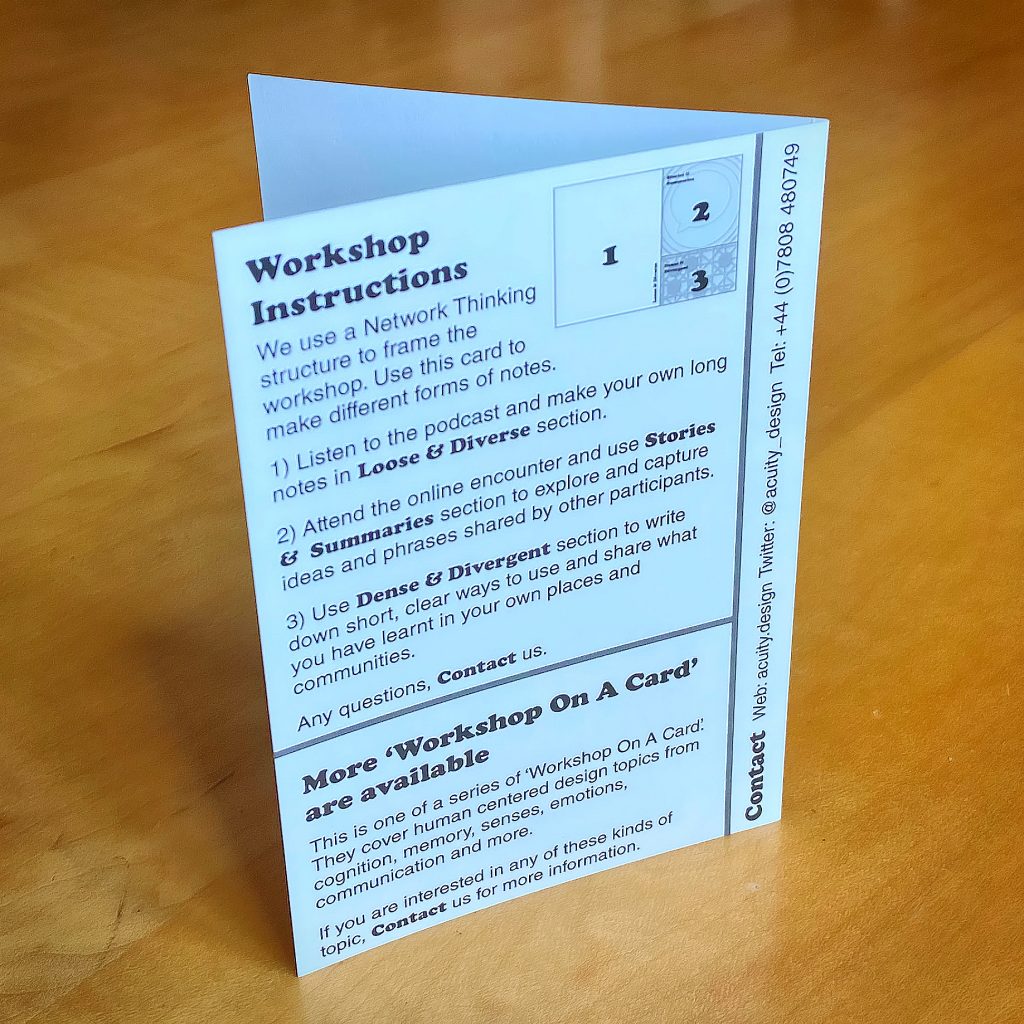 Network Thinking – By Post, By Podcast, by Zoom
Good Dissent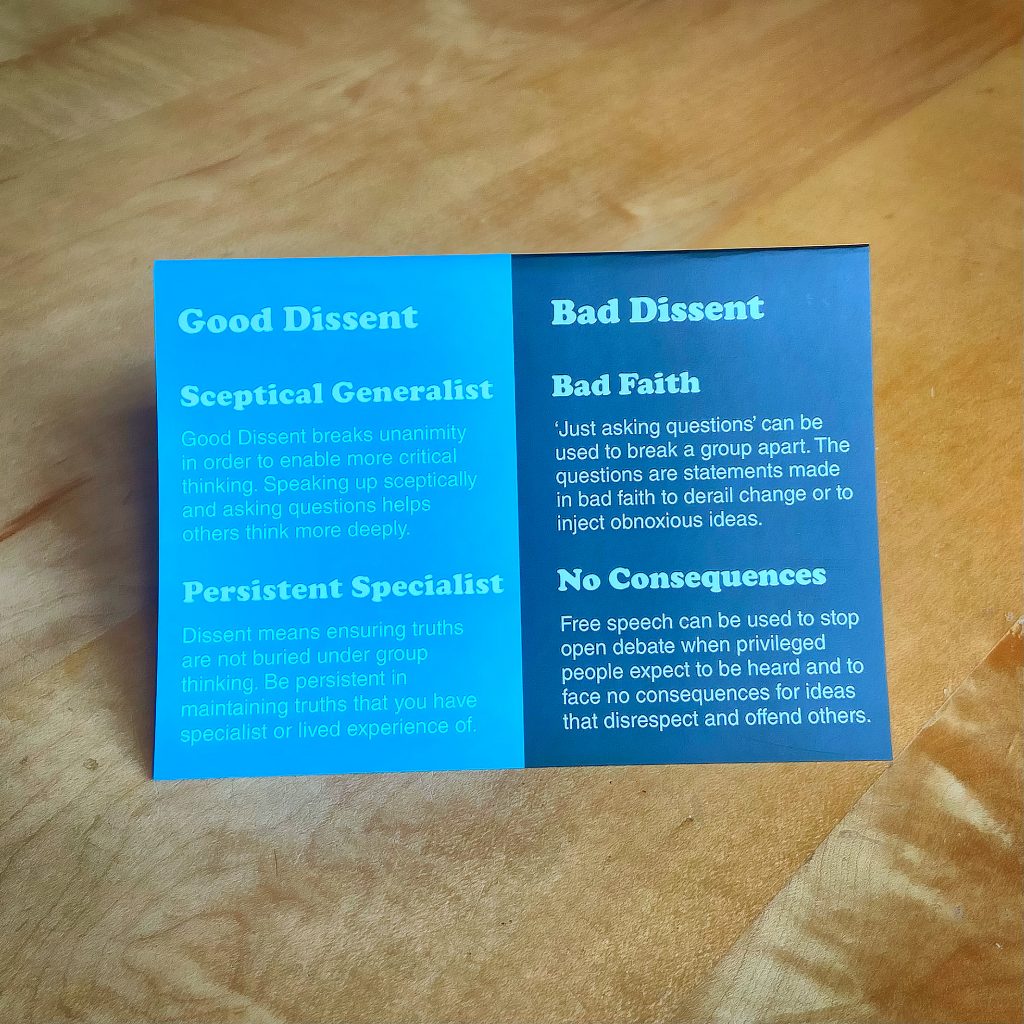 Good Dissent comes out of a series of 2020 workshops on developing tools to enable positive change in organisations. Rather than thinking of personal resilience as skill to survive institutional failings, the use of communal dissent to find small ways of creating ripples of both connection and change amongst people.
Using ideas from Charlan Nemeth and others, this workshop looks at positive dissent thru speaking up but also reflects on bad dissent and recognising how dissent and change are stopped by people with power and privilege.
Good Dissent – By Post, By Podcast, by Zoom
Active Listening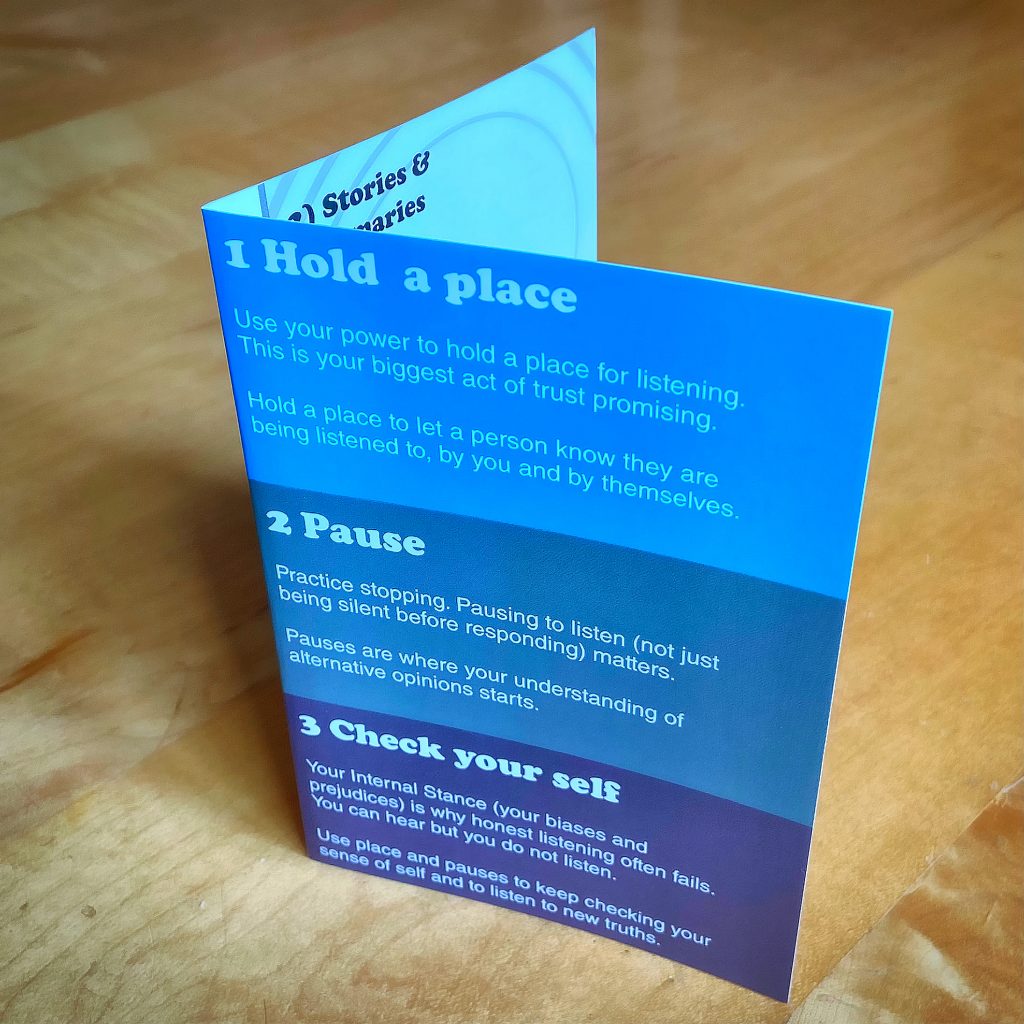 The first workshop of the series is on Active Listening and some ways of creating better opportunities to listen.
This workshop comes out of both usability research work in accessibility and information architecture of conversation workshops. The three part process is a based on elements of Non Violent Communication, structured enquiry and Jungian counselling theories but it is about taking simple actions and recognising your power to listen.
Active Listening – By Post, By Podcast, by Zoom
Contact
If you have any questions then please email me a.somerville@acuity.design.